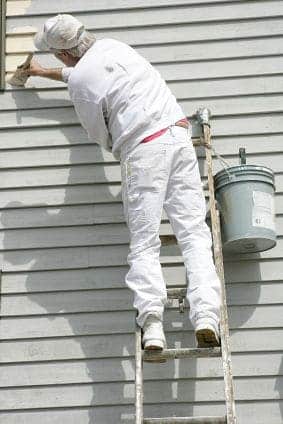 Painting contractors are a dime a dozen, and if you don't do the research, you may be left with a painting job worth even less than a dime. Don't assume that a flashy website or a fleet of flashy company trucks equals quality work expertise, or professionalism. Here are some tips to help you make an informed decision when choosing an interior house painting contractor.
Find out what people are saying in the neighborhood. There's no better indicator as to the integrity and reliability of a company than happy customers. If a neighbor or a friends freshly painted home looks good, ask them who did the work. Referrals are key. Conversely, keep an ear out for customer complaints and make a mental note of interior house painting jobs that look sloppy or poorly executed.
Find out what people are saying online! Today, with the world wide web at our fingertips, we have an amazing research resource. Gone are the days when lousy companies could thrive on anonymity. Don't hesitate to visit websites like Anglie's List, City Search, Google Reviews, and Yelp which not only inform you of who is available—but also provide you with helpful customer reviews (both good and bad!).
Take the time to visit the office or headquarters of the contractor. At the very least, set up a phone call where you have a chance to ask some in depth questions about the services that the contractor offers. Establishing a dialogue between you and the management is an excellent way to begin to assess their professionalism. A true professional contractor will answer all of your questions and present you with all of the details and options that are available. If they need to research your project and get back to you, fine—as long as they get back to you. Contractors that don't prioritize customer questions should not be trusted to prioritize paid customer jobs.
This goes without saying (but it's surprising how many folks neglect to do it): Make sure they are insured, bonded, and that they have any necessary certifications (i.e. EPA lead paint removal requirements). It's not rude to ask to see proof of proper insurance (general liability and workers comp), and a quality contractor will value your concern.
Get estimates on interior house painting jobs. When a job is all said and done, there are a host of different costs that you may not foresee at the outset.  Have at least three different companies give you a comprehensive estimate that will account for all of the preparation, labor and materials. And this is crucial: ask for a detailed estimate in writing. It's always good to get your contractor to discuss both surface preparation and how many coats they will need.  Shady and unprofessional contractors often rush or skip on surface preparation (which will leave you with a worthless result), and start adding coats of paint that weren't included in the original estimate. Keep 'em honest!
If you live in New Jersey (Pitman, Glassboro, Gloucester City, etc.), Delaware (Wilmington, Greenville, New Castle, etc.), or Pennsylvania (Philadelphia, Springfield, Brookhaven, etc.), give Brennan's a call. We'll by happy to schedule a free estimate and aid you in anyway that we can on your next interior painting project!
https://www.brennancontractor.com/wp-content/uploads/2017/08/brennan-enfold.png
0
0
J2@dm1n
https://www.brennancontractor.com/wp-content/uploads/2017/08/brennan-enfold.png
J2@dm1n
2013-03-30 15:22:24
2013-03-30 15:22:24
How to Choose an Interior House Painting Contractor?