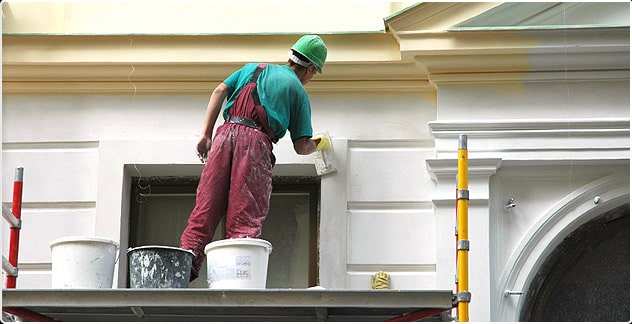 Spring and summer are two prime seasons for exterior house painting in New Jersey. Whether you're putting your home on the market sometime soon or simply are ready for a refreshed look, exterior paint and repairs offer crucial style and protection.
Now comes the slightly trickier part: finding a painting contractor! After all, painting is a personal process, and one that really calls for a trustworthy professional that you can comfortably invite to your home.
We've put together a handful of questions that will help you find the perfect pro for your job, weeding out those who may just be taking advantage of a seasonal uptick in painting business.
You deserve better, and so does your home!
Important Questions To Ask Your Painter
Ready?
Are You Insured?
Many homeowners don't realize that if you hire an exterior painting contractor who isn't insured, YOU can be held liable for workplace injuries and/or damage. That's not a position you want to be in, and not a position that a reputable, conscientious painter would put you in.
What Kind of Preparation and Repairs Does My Estimate Include?
Not to be a wet blanket, but if an estimate seems low, there's probably a good reason for it. Less than scrupulous painting contractors will sometimes include little to no prep in their estimate, cutting their labor time down drastically. In turn, this creates a much lower quality paint job – one that will not look as good or last as long as it would if the time had been taken to do the job right. ALWAYS make sure your estimate is clear, and that it breaks down exactly what is included (labor and materials).
What Kind of Products Will You Use, and Why?
Every painter has their trusted, go-to products. Be sure to ask your prospective exterior painter which products they use, and why. Bargain brands that are upcharged can pad the estimate, but won't do your house any favors. Exterior paint especially needs to be of a higher quality to offer the most long-term value and protection possible.
Where Can I Find Your Reviews or References?
It's worth taking the time to review a company's reputation. And, don't just look for all high ratings! It's not realistic to please everyone all the time. Instead, take a look at how any lower ratings have been handled. Were they ignored, was there retaliation, or were they responded to in a calm, respectful, professional manner? That's a major indicator of what kind of experience you can expect.
How Do You Handle Safety?
This is a big deal, and a wonderful question to ask after inquiring about their insurance coverage. Making sure that your home (and the workers) are protected during the process is crucial, especially when dealing with ladders, heights, landscaping, etc. A good safety plan is a sign of attention to detail!
What Kind of Warranty Do You Offer?
A warranty indicates confidence, longevity, and investment, both to their work and their local reputation. Asking what kind of guarantee is in place offers you peace of mind as well!
These are all important questions to ask a painter in an interview, and we certainly hope you find them useful. If you have any questions for us at Brennan Contracting, please contact us! We're here to serve you, meeting all of your New Jersey house painting needs.
https://www.brennancontractor.com/wp-content/uploads/2013/09/commercial-exterior-painting-NJ.jpg
324
632
J2@dm1n
https://www.brennancontractor.com/wp-content/uploads/2017/08/brennan-enfold.png
J2@dm1n
2018-05-31 15:49:35
2018-05-31 17:58:03
6 Questions To Ask Your Exterior House Painter