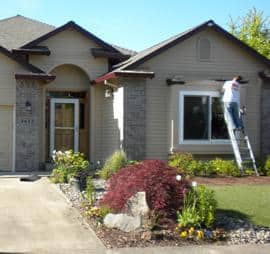 There is nothing more invigorating than coming home to a freshly painted house. It is clean, aesthetically beautiful and feels fresh. But over a period of time, smudges, dirt and grime appear and the house gets that old, lived-in look. The drab walls not only look bad but affect your mood as well.  And when that happens, you know it's time to get your house painted again.
 Professional exterior painting
Painting the exterior of a house is not an easy task. Here are some advantages of calling in a professional.
It is all about having the right equipment-the ladder you have lying in your garden shed will not do the job. An extension ladder is required, not to mention the scaffolding that needs to be erected. Of course it is a simple matter to rent them; but it is sure to increase your overall cost.
With a professional, the risk is less as it is not easy to balance yourself on scaffolding as you paint. It is an easy matter for professionals who have years of experience. Perched on the scaffolding, there is always the risk of taking a fall while trying to reach out to the far corners of the wall.
Professional prep work – scraping away all the peeling spots from the wall can be difficult. If done incorrectly, all your hard work will go to waste and the paint will start peeling again. Professionals are disciplined and tackle the work in a systematic manner.
A matter of health – for homes that was built or painted before 1978, there are chances that the paint used is lead-based. Serious health issues can result while scraping or sanding off the paint. When you call in professionals, they will see to it that you and your family are well protected.
Knowledge of paint – things have changed over the years. Today you have many choices when it comes to choosing the right paint for your surface. It is not easy to decide whether you should go for latex or oil. A professional will not only know what will work, but also how to use it.
Professionals for the interior
Painting the interior of your home is not an easy task. Here are some reasons why you should call in a professional.
You don't have to move furniture or cover fixtures for protection as the professional will do it for you.
Dust and dirt will be eliminated by the professional by giving the surface a thorough cleaning.
Professionals will know how to fill up cracks, fixtures and nail holes, and will also know how to prime your wall correctly. Priming is critical and needs to be done properly if you want good end results.
The professional has skills that help execute the job to perfection.
For intricate work like painting and trimming, skill and precision are required, qualities that you might not possess.
If it is quality you are looking for when it comes to painting your home, be it the exterior or the interior, it is best to consult a professional. With years of experience and skill to their advantage, they are just what you need.
https://www.brennancontractor.com/wp-content/uploads/2012/08/exterior-painting-21.jpg
254
270
J2@dm1n
https://www.brennancontractor.com/wp-content/uploads/2017/08/brennan-enfold.png
J2@dm1n
2016-06-15 08:00:41
2016-06-15 08:00:41
Advantages of Hiring Painting Contractors