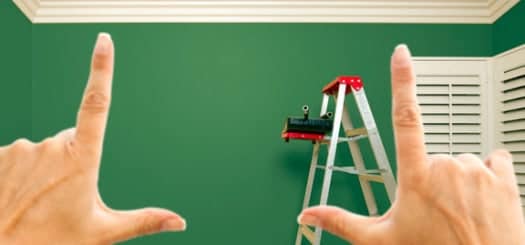 While repainting a room gives it a fresh and new look, it can get a tad boring after a time. Specialty painting on the other hand goes that extra mile to give your room a touch of class and with so many shades and effects to choose from, you have an abundance of choices. Select the shades and effects that best serve your needs. You can either play it safe and go for subdued effects, or you can let your adventurous side take over and go for dramatic effects. One thing is for sure – you will not be disappointed.
While there is no questioning the charm and elegance of specialty painting, you cannot deny the fact that a little expertise is required in seeing the job through.
Types of effects that you can consider.
Crackled – After the wall is coated with latex, it is treated with crackle medium. Once the glaze is dry, apply a coat in a contrasting colour. Both paint hues are revealed in the intriguingly crinkled finish.
Faux – You can imitate natural substances like silk, denim, leather or wood with this style. For a more natural effect, use with a joint compound. Or you can just spread it on as it is.
Layered – The effect of layering is rather striking. It entails painting three sections of the wall in different tonal values of the same hue, much like color blocking.
Metallic – This is ideal as an accent wall. You can also use it on trimmings and edges for that elegant look. You can go for shades of silver, gold or bronze. All you need to do is brush on the metallic glaze and create a sheen.
Sponged – This a real fun way to paint your wall. You can either use a sponge roller or just dab on the paint with a sea sponge.
Stenciled – This form of decorating has its own fan club. Attractive designs are painted on the borders or scattered on the walls using pattern cutouts. The effect is truly amazing!
These are just some of the styles you can go for. They are probably the trendiest form of specialty painting. You can even make ordinary walls look like historic antiques by using a distressed wood grain finish. You can basically go where your imagination takes you, playing with stripes, motifs or streaks.
Once your creative juices start flowing, the sky is the limit. All you need is a little knack and some hard work, and voila! You have a designer home!
https://www.brennancontractor.com/wp-content/uploads/2016/05/hands-showing-wall-525x245.jpg
245
525
J2@dm1n
https://www.brennancontractor.com/wp-content/uploads/2017/08/brennan-enfold.png
J2@dm1n
2016-05-30 08:00:22
2017-03-24 17:59:48
Specialty painting to turn walls into works of art