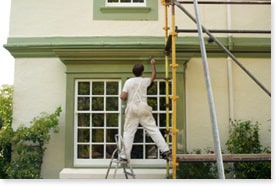 There is a season for everything. More so when it comes to getting the exterior of your house painted. And unless you reside in a climate that is moderate through the year, it is best to choose the season properly before you proceed with getting your house painted. Apart from the season, the climate for the particular day of work is also important if you want your job to be done satisfactorily. Getting your house painted in the wrong climatic conditions can cause runs, cracks, flaking and bubbling.
The best season for painting
It all depends on the climatic conditions of the place you live in. If you live in the north and get snow, it is best to wait for late spring before you even think of getting your house painted. While summer is generally warm, it can get windy. Your painted surface can get dusty and your paint spray can carry far and wide.
So what are the ideal conditions?
It is best to check the weather forecast daily. Moderately warm temperatures, between 50-85 degrees Fahrenheit is ideal; but see that there is no forecast of wind in the weather report. In case you are using oil-based paint, the temperature of 40-90 degrees Fahrenheit works well. A sky that is cloudy is much better than a sunny day. This is because the sun can cause cracking of the paint. To give your paint time to cure properly, the weather conditions should be stable for a day or two.
Avoiding moisture
A dry surface is ideal for paint. It is not only the snow or rain that can cause your walls to become moist; it is the humidity in the air too.
If it has rained heavily, wait it out, at least a day before you even think of starting on your project. Then check the surface and see if it feels wet. Sometimes, even if it does not feel wet when you touch it, it may well be wet within. This is especially true for surfaces that are porous like masonry or bare wood. Dew formation can also be a bane.
Painting when the conditions are wrong
You can be assured that you have not only wasted your time but your money too if you had your house painted in the wrong climatic conditions. When paint gets wet in the rain or there is too much humidity, the paint does not have time to cure properly and can blister or swell. In conditions that are too hot or too cold, the paint will not bond to the surface and cracks and peeling upon drying are the result.
With the right conditions and the proper knowledge, you can get an experienced professional to get your house painted to your satisfaction.
https://www.brennancontractor.com/wp-content/uploads/2013/03/best-exterior-painting.jpg
186
279
J2@dm1n
https://www.brennancontractor.com/wp-content/uploads/2017/08/brennan-enfold.png
J2@dm1n
2016-09-15 08:00:23
2016-09-15 08:00:23
When to Get Your House Painted