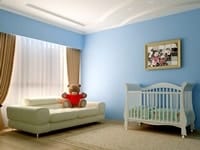 There is nothing more exciting than waiting for the birth of a child. A baby in the house changes everything; life is suddenly peppered with immense joy and a whole lot of unimagined surprises. Preparing for its arrival is, however fraught with stressful moments that can be overwhelming. There are baby clothes to buy, furniture to select.
Setting up a nursery for the newborn is an exciting affair. You want an environment that is safe and warm. The ambiance has to be just right. An inexpensive and effective way to alter a room into a nursery is to paint. But a nursery is not just any room. Your baby is going to spend most of his/her time in there. So it has to be just right. While aesthetics are important, a healthy environment is of paramount importance.
Although your contractor will have a fair idea on what is involved when painting the nursery, there is no harm in arming yourself with a bit of knowledge. After all, your baby's health is at stake. Here are a few tips that might be helpful.
A matter of fumes
Paint toxins can be detrimental to health, especially for a new born baby. So find out if the paint your contractor is using has toxins or not. Some paints available in the market not only give off harmful fumes even after they have dried, but they tend to harbor deadly bacteria that are not easy to clean.
Opt for a no-VOC or a low VOC formula paint for your nursery. The volatile organic compounds that many paints give off will be reduced with the use of a no-VOC paint. Though these paints are toxin-safe, they do leave a faint odor but are still a lot safer than water-based paints or standard latex paints.
So why are VOCs so bad? Exposure to VOCs is associated with a number of health issues; these include cancer, irritation in the ears, nose and throat and headaches. VOCs are also known to damage organs like kidneys, liver and the nervous system. Children, especially newborns are more susceptible to health issues.
Picking out a theme for your nursery
The theme is very important for the overall look of the room. Since it's going to be there for a while, choosing something that will appeal to you for a long time is important. There is no need to restrict yourself by choosing gender stereotypes. Light blues, yellows and pastel greens do just as well. You can add to the overall appeal by adding photo frames, throw cushions and stuffed toys. Remember to keep it simple.
Adding the frills to your walls
There is a lot more your contractor can do once the base coats are done. Stenciling a floral border along the skirting or paneling works well for any nursery. If you are artistically inclined, you can get a mural hand-painted on your accent wall. If not, then there are always themed stickers available in the market. But be sure to let the colors complement each other.
One thing to remember is that your baby will be growing up in the room you design, so be sure to select soft and pleasing colors with motifs that are stimulating and intriguing. Once you are done with the décor, you can sit back and await the arrival of your little one.
https://www.brennancontractor.com/wp-content/uploads/2016/08/blue-baby-room-14304731_small.jpg
150
200
J2@dm1n
https://www.brennancontractor.com/wp-content/uploads/2017/08/brennan-enfold.png
J2@dm1n
2016-08-31 08:00:24
2017-03-24 17:50:12
Things to Take into Account when Painting a Nursery