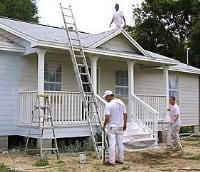 Mistakes to Avoid When Getting Your House Painted
You may think that all you need to improve the look of your home is a gallon of paint, a few brushes and a roller. It may seem like a simple job; after all, what can be easier; right? But just because it seems so easy doesn't mean that it actually is. And rather than end up with a botched up job, isn't it advisable to let the professionals handle what they are trained to do? Here are a few mistakes people make when they go about getting their homes painted.
Selecting the wrong colors
It may seem like a nice color when you see it on the strip at the store and place your order. But it just doesn't look anything like what you picked when it is brushed on to your walls. The best way to avoid this problem is to ask the paint store to mix you a batch of a small sample that you can take home and let the contractor test it on your wall. For best results see it during the night and in the day. If you don't like it, it is a simple matter to select another sample.
The wrong paint
No matter how well applied; if the paint is wrong, the project is doomed from the word go. Things that need watching:
The surface should be checked. If it is not perfect, painting with high sheen paint should be avoided. The problems on the surface will only get accentuated with the gloss. Every defect will be highlighted in the sheen. So opt for paint with a semi-gloss and the surface that is being worked on should be as smooth as possible.
While covering a light tinted surface with a darker shade, a tinted primer is advisable. A sure bet is gray primer which works for most dark colors.
When using a combination of two sheens of the same color, label the cans of paint. That way they won't get mixed up. It would be a disaster to accidentally paint over flat walls with semi-gloss paint.
Walls are walls and ceilings are ceilings
Extra care is needed when working on a drywall ceiling. Your painter you will tell you stories that un-textured ceilings show drywall seams no matter how many coats of paint are applied.
For best results, the entire ceiling should be skim-coated with a fine layer of joint compound. Level differences will thus be feathered out and a consistent surface will be there for painting. Rolling on a special high-solids paint made especially for this purpose is also an option.
Avoid these mistakes while your house is being painted
Leaving the paint can lid off. If someone steps on the lid there will be paint all over the house.
Lock out pets. Keep them away from the area being painted. You don't want paw prints all over the house.
Over brushing should be avoided. Level the paint with a couple of strokes to avoid brush marks.
Make sure to cover everything properly before the spray painting starts.
A little knowledge on the subject will go a long way when you are getting your home painted by a professional. Painting a home is not an easy task. So while your contractor sweats it out, you can put up your feet and relax.
https://www.brennancontractor.com/wp-content/uploads/2016/07/contractors_sma.jpg
172
200
J2@dm1n
https://www.brennancontractor.com/wp-content/uploads/2017/08/brennan-enfold.png
J2@dm1n
2016-07-29 08:00:54
2017-03-24 17:54:50
Mistakes to Avoid When Getting Your House Painted