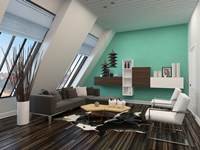 There is nothing quite like an accent wall to liven up a room. There are many ways in which you can make the chosen wall the center of attraction of all eyes. It can be a fireplace, a strategically placed painting or a collection of photo frames. But nothing really does it like giving your wall a bold contrast color to accentuate it. It can be a plain bold color or you can go for different texture or treatment to really jazz it up.  Here are some suggestions that might be of help.
Choosing an accent shade for your room
Deciding on the right color can be challenging. But there are shades on the color palette to suit any and every need. Your contractor will help in deciding how much paint you will actually require, as the area will be comparatively small. You can go for a totally different look or try and match the color to the existing furniture, the choice is yours. For a home that is older, select a low-sheen or eggshell finish to hide all the imperfections.
So which wall should you choose?
It's important to pick the right wall as your accent wall. Look around you carefully. Search for a wall that has a fireplace or a bookshelf that naturally draws your eyes to it. If you don't have any architectural details to focus on, create a wall that will carry your collection of frames, or your collection of shells, neatly framed. If it's your bedroom, the wall behind the headboard is the perfect choice. For longer; narrow rooms, painting the shorter wall will succeed in making the room less narrow and long.
 A bit of drama
The sky is the limit to what you can do when it comes to innovative means to highlight your accent wall. These include, wallpaper, metallic colors, graphic prints, plaster treatments or 3-D wall tiles. Be sure to choose something that suits your home and décor. A good beginning is to use a favorite painting, a rug or a cushion and use that as your basic color palette. These are just a few of the ways to dramatize your wall.
Wallpapering
Wallpapers are not what they used to be when your grandmother was around. Today you have a plethora of choices; there are textures, metallics and prints that are bold and vibrant. Some of the newest trends are glass-bead wall coverings and metallics.
Stenciling
Sometimes budget can be an issue when it comes to high-end designer wall covering. Stencil patterns are an attractive alternative and also quite easy to use. The advantage is when you do get tired of the pattern; you don't have to scrub off the wallpaper paste.
Creating a gallery wall
A gallery wall succeeds in giving your room character. You not only have an accent wall, but you can also showcase your artwork or your favorite prints and paintings. With your accent color as the background the artwork will really stand out.
Now that you have decided what you want to do with your accent wall, remember that the other walls in the room cannot be ignored. Use a color that compliments the accent wall without overshadowing your accent wall.
https://www.brennancontractor.com/wp-content/uploads/2016/08/Modern-living-room-interior-wi-66104152_small.jpg
150
200
J2@dm1n
https://www.brennancontractor.com/wp-content/uploads/2017/08/brennan-enfold.png
J2@dm1n
2016-08-15 08:00:42
2017-03-24 17:53:56
Painting an Accent Wall-What are your Choices?