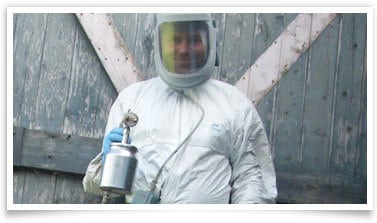 Painting is not an easy task at all! In fact, it involves safety hazards at all steps of the process. Right from sandpapering, to choosing the paint, and climbing the ladder to apply the paint, multiple safety issues are involved. Peeling old paints, setting up wallpapers, and negligent application methods can also lead to health issues.
Choosing a safe paint
Lead-based paints of the past are no longer available. Mercury-based paints have been phased out as well. Nevertheless, you can always verify the heavy metal quality of the paint with a simple testing kit available everywhere. Until a few decades ago, oil-based paints were used widely. However, these have a high VOC emission rate. The Volatile Organic Compounds from painted walls can be so dense that it can create smog in a recently worked-in room.
In fact, you should always make sure that the room being painted has adequate ventilation. To combat this issue, nowadays most paints are water-based latex solutions. These have a relatively low VOC rate and also offer a better finish than oil-based paints. The majority of painters use these, but you should still verify whether they do. However, the latex paints also consist of crystalline silica, which is very hazardous. Anyone painting a room should always wear full protective gear. Wear goggles, gloves, anti-dust masks, cover your hair in a bandana, and put an apron over the usual paint dress.
During the process
Wall prep: The fine dust made during prepping the wall at first can trigger asthma and allergies. Your face mask and goggles will protect you. Peeling old paints, especially lead-based ones, is hazardous. Your painters will do it safely, but you should ensure that they also dispose of the peeled paint in the proper way.
Right painting application: The professionals you will hire are obviously aware of painting from a safe distance. However, you should make sure that they do not just paint over an existing mildew surface on the wall. If you do not erase the wall infection, it resurfaces on the painted wall. Make sure that the painters are not smoking when mixing the paint. They may need a smoke break, but paint is highly flammable.
Wallpapering and varnishing: The glue in wallpapers and the varnish over woodwork are also hazardous. If you are considering DIY on these jobs, make sure you have the correct protection. You can always hire professionals!
Working on a ladder: The ladder should be steady. Double check it to avoid any risk of falling. Exterior paint capsules should be safe as well.
You can always look for sustainable painting products from a good company. Discuss your requirements with the provider. Paint chemical concentrations vary with each shade. Darker tints mean more VOC emissions. Take care of all aspects in choosing a suitable color.
https://www.brennancontractor.com/wp-content/uploads/2015/01/protective-gear.jpg
223
377
J2@dm1n
https://www.brennancontractor.com/wp-content/uploads/2017/08/brennan-enfold.png
J2@dm1n
2015-01-07 08:00:17
2017-03-24 18:23:17
Be Safe When You Paint - Here Are Some Tips