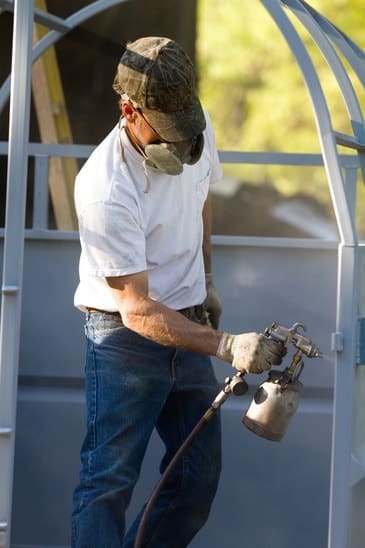 Paint sprayers do not need an introduction. However, besides the graffiti painted on subway walls, professional quality sprayers are also used for regular work. It is especially suitable when you have to cover a large area, to paint wooden planks, railings, metal surfaces, and areas that need detailed brush application (such as frescoes).
Choosing the right sprayer
Choosing the right sprayer apparatus can be confusing, given the wide range of options available. Essentially, the painter has to consider the type of coating, and the area that requires painting. Depending on these two factors, professionals choose the right one from the different models. The appliances vary in the amount of paint they deliver, overspray amount, and their mechanism of functions.
Based on the mechanism, these are the three types.
Conventional models or the air sprayers: These appliances use air pressure generated by a compressor to atomize the paint. You can also buy models that plug in to external compressors. In-built compressor products are also available. Some units also offer the ability to calibrate the flow of the paint, flow of the air, and even the width of the spray fan. These are good for creating smooth and thin finishes, but they are also very wasteful.
The HVLP sprayers: The HVLP or the High Volume Low Pressure sprayers are much better than conventional ones to minimize paint wastage. They have about an 80% transfer rate. The mechanism involves a combination of high volume and low pressure air to atomize the paint. However, they do slow work and are relatively expensive.
Airless sprayers: The airless sprayers do not generate the paint mixed with air. Here, the atomized paint is directly generated by a gas motor, hydraulic motor, or an electric motor. Sometimes, air compressors are also used to force out the paint. These are very effective for creating a thick and effective coating, and are well-suited for large projects.
Safety precautions
These entail a variety of safety issues.
Overspray is a major concern, so the painter wears goggles and a face mask. You should switch off the room fan, and consider painting the exterior on a windless day.
You need to switch off all electrical appliances in the vicinity to prevent short circuit risks.
Smoking and burning stoves where the work is done is also not allowed.
One should handle the spray gun responsibly. The trigger has a safety lock. Make sure that it is in place when you are not using it. Also, any paint that gets over an open wound should receive immediate medical attention.
Air sprayers are good options when you need to cover a big work in short time. Consult with a professional service to find if they are useful in your project. Choosing the right appliance is also vital.
https://www.brennancontractor.com/wp-content/uploads/2015/01/sprayer.jpg
548
365
J2@dm1n
https://www.brennancontractor.com/wp-content/uploads/2017/08/brennan-enfold.png
J2@dm1n
2015-01-05 08:00:38
2017-03-24 18:25:04
Buying and Using Paint Sprayers Safely