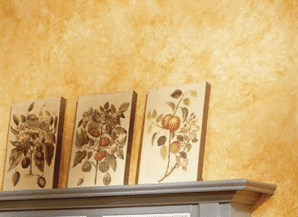 Special wall paint textures can magically transform a room's ambiance. Just imagine a Syd Barrett or John Lennon portrait on a denim-washed wall! The denim blue is the quintessential color of youthfulness, although denim has been original for more than 100 years now!
Various special textures
Homeowners can select from a wide variety of special effects for the walls, so you'll need to look into the catalogs of the paint manufacturers. Some of the most amazing special textures include yarn, jute, crushed silk, Kora grass, and leather. Some homeowners may seek a historic old-fashioned look for their walls.
The world of special paint textures is very diverse. Other styles include a metallic weathered look, sandbrushed wood look, damp wall look, and sandstone appearance.
Experience matters
Besides buying the specially-made paints from manufacturers, painters achieve the look by creative applications. You also need special painting equipment. For example, in creating the above denim look, you will need a yarn brush. There is also an exclusive denim brush tool.
Then, there are particular ways of applying the brush to have the desired effects. So, for a 'damp wall' look by color washing, it is best to apply the roller in a cross-hatch manner. It is very important to hire an experienced painting service for the job.
A unique shade
Sometimes, interior designers and sophisticated homeowners also ask for an exclusive shade from the manufacturer. You may be particular about a 'white gray' shade that should be a little lighter than the available color. Paint manufacturers do offer customized production for their clients on special requests.
Check whether the preferred painting service has the necessary contacts to arrange a customized production for the required volume. They will calculate the intended painting area, add the buffer amount, calculate the tentative costs, and provide an estimate. When you give the go-ahead, experienced painters can deliver the exact special color you need.
Express your mood
An amazing diversity of special textures is available. Base your choice on the mood you need to convey. So, you may want an oriental bedroom wall, or an exotic Hawaiian feel. Describe your requirements as close as you can. Make up a mood-board and collect the images, swatches, or any other things that inspire you for the mood of the room. This approach is very helpful as the painting service will have great visual references to deliver the exact feel you need.
It is very important to be particular when you have a specific requirement. Remember that shades vary only very slightly, so you have to be very particular. For instance, the green of new leaves and old leaves are different and you may want to mix both of them for a fabulous effect. Check if it is possible.
https://www.brennancontractor.com/wp-content/uploads/2013/08/How_Do_I_Color_Wash_My_Walls.png
217
298
J2@dm1n
https://www.brennancontractor.com/wp-content/uploads/2017/08/brennan-enfold.png
J2@dm1n
2015-01-14 08:00:23
2015-01-14 08:00:23
Using Special Textures for Amazing Effects