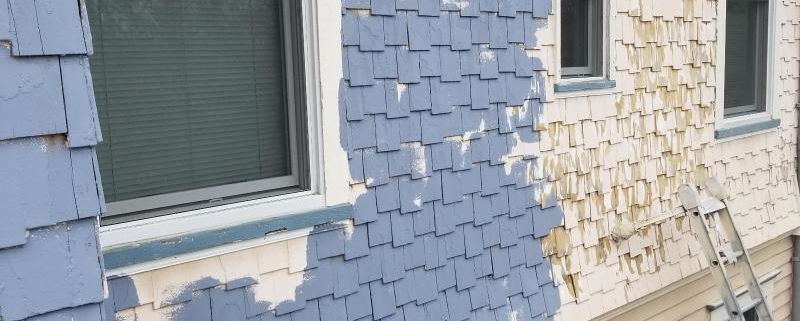 Once summer arrives, it goes quickly! It'd be nice to enjoy those more lazy, hazy days like when we were kids, but the warm weather today brings travel plans, vacations, activities, and a calendar that seems to flip faster and faster with each passing week.

We can relate! This is our busy season as well, filled with exterior painting and maintenance projects throughout Pitman, NJ, and beyond. We're painting and refinishing:

Wood and stucco siding
Shutters
Doors and windows
Wood and metal railings
Pergolas and gazebos
Fencing
Porches
Decks, and more!
If you have a question about your own New Jersey house painting goals, please don't hesitate to reach out. We'd love to help!

4 Signs That It's Time for Exterior Painting

It can be easy to put off exterior painting, maybe telling yourself that those signs of age and decay aren't TOO bad and can likely wait another year.

In reality, putting off exterior painting will only create a larger and more expensive project. Since paint is your surface's first line of protection, allowing that barrier to be compromised can create serious surface damage, and will also require more hours of preparation before the new paint can be applied.

Routine, ongoing care is always best, beating complete paint failure.

So, what should you look for?

Are mildew or algae present? If so, a thorough cleaning is in order. Between paint jobs, routine pressure washing will help keep your siding healthy and attractive, and increase the lifespan of your paint and stain. That's a win from every angle!
Blistering is another sign of trouble. It's also a sign that your paint may have been applied in excessively hot conditions, or that there is a moisture issue underneath the paint film. Either way, it's important to address and investigate the issue.
Chalking occurs when paint is getting older and more tired, and is often the final warning sign before actually cracking and flaking.
Are you finding paint chips in your grass, or maybe it's starting to crack and lift? If so, that's a sign that you've waited too long, and definitely need to move your home's exterior to the top of your priority list.
Remember, paint failure doesn't mean it's time to paint; it means you're well overdue! Keep your home healthy and happy, and your maintenance budget too, by investing in routine inspection, care, and touch-ups.

https://www.brennancontractor.com/wp-content/uploads/2019/07/Exterior-Painting-in-Pitman-NJ-1.jpg
800
800
J2@dm1n
https://www.brennancontractor.com/wp-content/uploads/2017/08/brennan-enfold.png
J2@dm1n
2019-07-01 17:24:39
2019-07-08 19:32:07
Now Is the Time for Exterior Painting in New Jersey