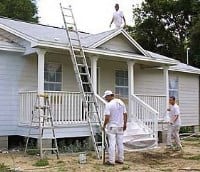 Many homeowners consider the idea of taking up the painting tasks themselves. When the job is small and does not require much prep, trying it on your own is a reasonable idea. If you just have to paint the inside wall of the garage (which is not a living space exactly), you can definitely consider slipping into your tattered jeans and picking up a brush.
The need for professionals
However, when the painting job is big, like multiple indoor walls or the entire exterior, you'll likely want to call in the professionals. Painting is not as easy as it may seem. It requires much more than simply dipping a brush and covering the walls with paint.
You need to select the right paint.
You have to decide on the right time to paint (weather is important: it shouldn't be too hot, cold, or humid.)
Very importantly, you have to prepare the walls properly. For larger jobs, it can take up to a week just to prepare the walls!
You'll need to use the brush with proper technique to ensure the color is uniform.
There is a correct way to mix colors as well, especially when they are from different manufacturing batches.
DIY painting can be hazardous especially when you have to access heights or remove old lead based paint.
Finally, you need to clean after painting. You'll need to dispose of the empty paint bins, the peeled garbage from preparing the walls, and the hardened brushes.
A licensed professional service handles all of these tasks. All you have to do is select the color, pay for the job, and relax. They will handle the entire project from preparing the walls to cleaning the floors before they leave. All you have to do is to be aware of the different aspects of finding the right painting services.
Selecting the service
First, find whether the service has sufficient local reputation. See if they can provide trusted references. Discuss your job requirements and ask for a quote. Make sure to research the standard rates. Ask the company can provide a transparent breakdown of the costs.
You'll need to ensure that you're hiring a licensed and insured service. Verify that their staff have safety training, and that if they work at heights, use proper safety gear. With these aspects in check, you can be on your way to an excellent, hassle free, paint job!
https://www.brennancontractor.com/wp-content/uploads/2014/12/contractors_sma.jpg
172
200
J2@dm1n
https://www.brennancontractor.com/wp-content/uploads/2017/08/brennan-enfold.png
J2@dm1n
2014-12-12 08:00:31
2017-03-24 19:20:03
Reasons Why Hiring Licensed Painters is More Effective than DIY