When it comes to exterior paint colors, there are so many options that it can feel a little overwhelming. You want your house to be cozy and welcoming on the inside, but you also want it to stand out from the crowd (in a good way!) on the outside. It's a balancing act! Luckily, there are some great exterior paint colors that will help you achieve both of these things without going overboard. Whether your home is brick, stone, or another material entirely, the right color is out there… we promise. 
If you're looking for some inspiration, check out these 5 best exterior paint colors for your home in 2022.
What's New in Exterior Paint Colors?
There are a few trends you should be aware of right now. 
The one we're most excited about is the return of the vibrant and bold exterior paint color. Since the late 2000s, muted and pastel-y shades have dominated the color conversation. While those muted tones are beautiful and are certainly here to stay, it's fun to see bolder and brighter options on the market.
On the other side of the coin, we're also loving the return of darker tones. It's tough to beat the rich depth of a dark palette, especially with lighter accents and highlights.
Bright Whites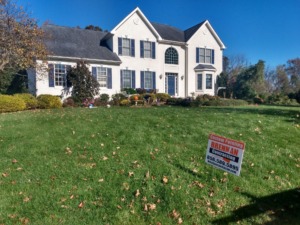 When you think about exterior paint colors that pop, the first thing that might come to mind is a bright white. It's a classic, too.
White exterior paint can be stunning, whether it's been given a blue or green-toned tint, or left pure and unadulterated. These bright whites are the perfect way to add a pop of color to your home while leaving plenty of room for accent colors and textures. If you're looking for a way to add some pep to your exterior step, bright white might be the way to go.
Mid-Tones
Mid-tone exterior paint colors are on the rise, and we're here for it. These tones are a nice way to add a dose of color to your exterior without going too bold or too wild. If you want your exterior to stand out from the crowd but don't want to commit to a super bright or dark color, a mid-tone exterior paint color might be the way to go. This is also a great way to add a splash of color to an otherwise neutral exterior (or if you have a brick or stone home).
Dark and Rich Tones
Dark and rich tones, like deep reds and moody blues, have been hugely popular on the interior side of things for a long time. Now, this trend is starting to make its way to the exterior. 
These rich paint colors are great for anyone who wants to make a statement. Not super subtle, but definitely stylish.
Earth Tones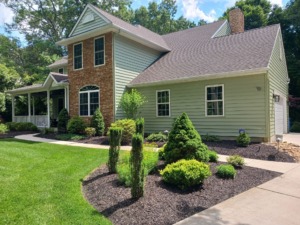 Looking for something warm and inviting? Earth tones might be the way to go. 
These exterior paint colors are ideal for anyone who wants to create a warm and cozy vibe outside without committing to a full-on rustic or country aesthetic.
Other Shout-outs: Taupe and Neutral Tones
Taupe is another exterior paint color trend we're excited about. This neutral tone has been a favorite of interior designers for a long time, and now it's being celebrated as a great exterior color option too. Taupe is a neutral shade that is somewhere between gray and brown, adding texture and depth to your curb appeal.
What's the Takeaway?
You've got options! But don't feel pigeon-holed by what's trendy. The best thing you can do is pick a color for your New Jersey home that you really love, and can see yourself enjoying every day. 
Have more questions about exterior painting in New Jersey? Contact us at Brennan Contracting! We're here to help, and would love to discuss your project ideas with you.
https://www.brennancontractor.com/wp-content/uploads/2022/06/Brennan_Blog_Header.jpeg
1440
1920
david
https://www.brennancontractor.com/wp-content/uploads/2017/08/brennan-enfold.png
david
2022-06-29 18:21:01
2022-06-29 18:22:42
Top 5 Exterior Paint Color Trends for 2022