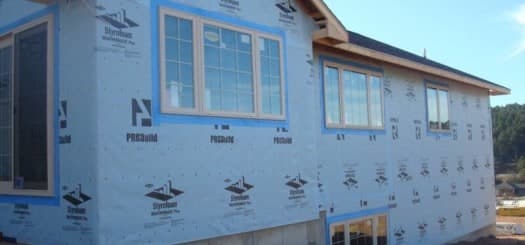 Effective water management is the key to happy living. Yes, attractive exterior walls give home a curb appeal, but they do not guarantee flawless water protection. No exterior material, be it stucco, brick and not even siding is one hundred percent waterproof. Water from rain can make its way to any exterior finish and so a drainage plane is imperative for any home.
A drainage plane involves applying water-resistant material to home exterior, providing water a drainage path from roof to the ground. It guides water back to the exterior when water penetration happens to the exterior finish. Here is how a drainage plan secures various parts of a home's exterior against rain or snow water.
Effective Drainage Plane for Home's Exterior
Windows – An opening window breaks the continuity of an effective drainage plane. To prevent water penetrations through window openings, they need to be flashed and sealed properly. Window flashing needs to be layered correctly to keep water seeping behind window flashing.
Utility Penetrations – Dryer vent, hose bib and other fixtures create holes in the drainage plane. A drainage plane is effective when it is incessant. Flashing helps maintain a drainage plane's continuity by directing water away from penetrating areas. Install preformed flashing panels for effective flash penetrations.
Wall Cavities – Wall cavities are the most vulnerable to water penetration. Intersecting roofs, utility penetrations and windows are a few of the critical areas that demand extra care and attention. A house wrap is a perfect way to keep water out of these wall cavities.
Intersecting Roofs – The more roof-to-wall intersections a home has, the more difficult it becomes to employ a consistent approach to water management. The ideal solution for such intersections are; having flashing in place integrating properly with house wrap and keeping a reveal between roofing shingles and exterior finish. These best practices can prevent a lot of water damage.
Despite an effective drainage plane and all your best efforts, some water will still break into the exterior finish. When you notice any such signs, you house needs a second line of defence for water penetration that can effectively drain the water back to the exterior.
https://www.brennancontractor.com/wp-content/uploads/2015/01/tyvek-525x245.jpg
245
525
J2@dm1n
https://www.brennancontractor.com/wp-content/uploads/2017/08/brennan-enfold.png
J2@dm1n
2015-01-30 08:00:15
2017-03-24 18:12:59
Protecting Exterior Walls from Water Intrusion