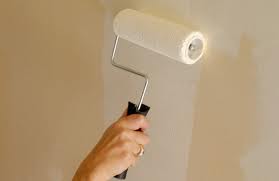 Painting the interior walls will take a few days of preparation. Even for a single room, you have to set full days for moving the furniture out, scraping the walls with sandpaper, and washing them with a detergent solution. Developing a plan ahead of time will make the process much easier and lead to a better quality job.
Plan the budget
Several items are needed for painting. First, you have to decide on the amount of paint and primer your need. Professional suggestions are certainly helpful. An expert will easily be able to tell you how much paint you need just by calculating the total surface area.
If you have a highly textured wall with indentations, you will need two coats of primer. The same formula also applies to a greasy wall, like those in the kitchen. When buying paint, try to make sure that all buckets are from a single batch. You can always find the batch number at the bucket's base. Since the paint chemicals change in concentration over time, getting buckets from the same batch ensures consistency. It is very important that you mix all paint in a single container to avoid noticeable differences in dilution.
Consider contacting a professional painting service for assistance. (If you need help painting, give us a call at 856-589-5895!) You can promptly get an estimate of the costs including their service charge and the cost of buying the paint plus primer. Decide on the color depending on the intended mood of the room and make sure that you are comfortable with your selection, otherwise repainting will be time-consuming and expensive.
Preparing the room
You will need to protect the floor and the furniture from paint drops. Remove all movable pieces of furniture from the room. You may need to rent a storage container for one or two days. At the very least, move furniture to the center of the room and cover everything with a plastic wrap. Arrange a work table to keep the paint buckets and brushes.
Cover the floor with newspaper sheets or drop sheets. Take out all fixtures from the wall, including window-panes. For fixed regions like door linings, use a painter's tape to seal the edges. Unclog the ventilators if they are blocked.
The painting process is very easy. All you need is a little patience. Allow at least one day to wash the walls with detergent and subsequently dry. Before washing, make sure the walls have been sanded. Plane all cracks and dents, smooth any bumps, and remove previous paint chips. When the wall is dry, apply one or two coats of primer. After the primer, apply the final color.
If you need help painting, give us a call at 856-589-5895!
https://www.brennancontractor.com/wp-content/uploads/2012/11/Using-Paint-Roller.jpg
181
279
J2@dm1n
https://www.brennancontractor.com/wp-content/uploads/2017/08/brennan-enfold.png
J2@dm1n
2014-12-05 08:00:53
2014-12-05 08:00:53
Professional Tips for Painting Interiors