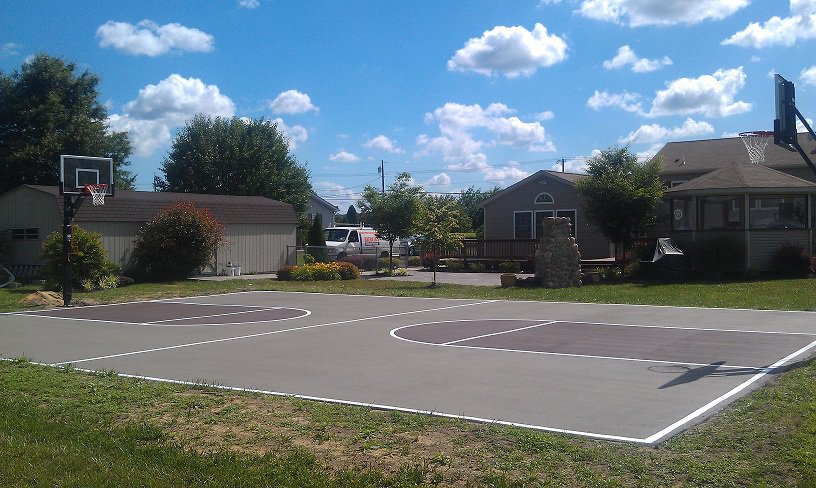 As a custom painting contractor, we always enjoy a job that offers unique challenge or variety. That is exactly what we got when we were hired to paint this basketball court for a family in Woolwich, New Jersey. This job was demanding in several respects; we needed to use a durable product, produce accurate dimensions and create both straight and curved lines on a horizontal surface.
This basketball court had been recently made, so the asphalt was new and required minimal preparation. We began by carefully laying out the dimensions and shapes, checking and re-checking to make sure we were straight and square. We decided on a paint product called Seal Master, which is an excellent paint for asphalt and will hold up to lots of wear.
Our first painting task was to create the large blocks of color. It takes a lot of caution on a surface that big to make sure you coat every area evenly, without going to thin or too thick in patches. Once the main colored sections were painted and dried, we used typical line-striping equipment to mark the boundaries and other features in white.
Brennan's Custom Painting has the skills, product knowledge and equipment to paint all kinds of unique home features. We can paint sports courts, whether for volleyball, tennis or basketball. We can also paint your home-theater, create a magnetic whiteboard wall, create a mural or restore antique woodwork. Whatever your painting needs might be, Brennan's has the solutions!
Serving New Jersey and the Philadelphia area, Brennan's Custom Painting provides residential painting and carpentry services.
https://www.brennancontractor.com/wp-content/uploads/2017/08/brennan-enfold.png
0
0
J2@dm1n
https://www.brennancontractor.com/wp-content/uploads/2017/08/brennan-enfold.png
J2@dm1n
2012-07-21 19:51:05
2012-07-21 19:51:05
Painting a Basketball Court in Woolwich, NJ