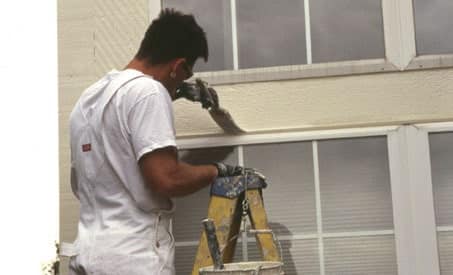 Exterior paint is your home's first line of defense against the elements, blocking out the UV rays, rain, ice, humidity and insects that would otherwise cause rot, mold and other serious damage. That, taken in consideration with the appearance of your home, means it is important to know how long your exterior paint will last. Every case is different, but here in New Jersey and Pennsylvania, a homeowner can expect an average of 5 years from their exterior painting.
One of the main factors that influences how long paint will last is the quality of previous paint jobs. If there is failing paint under your current paint, this will continue to cause cracking, peeling and other unsightly problems. If this is the case, it may be worth the investment to have a painting contractor remove the previous coats of paint, and start again with primer. This is also a good motivation to hire a professional painter for each exterior repainting — one poor job will cause extra headaches and expense for years to come.
If you want to get maximum life out of your next paint job, here are some factors to keep in mind. If you are going to do it yourself, make sure you follow these steps. If you hire a painting contractor, only choose a company who will follow these guidelines:
Surface preparation: Every surface should be washed before painting. Also, any mildew or mold should be completely killed before power washing to keep it from regrowing under your new paint. If you do not have a clean surface, the paint will not adhere. Also, any loose, flaking or bubbling paint must be scraped, and any rotten wood replaced.
Premium materials: Most of the cost of a can of paint is in the raw materials, meaning that more expensive paint is of higher quality. Paying the extra dollars for a better can of paint will ensure that your exterior paint job keeps its color and resists the elements for longer.
Multiple coats: If you are not changing the color of your house, you can usually achieve good-looking results with one coat. The advantage to doing another coat at the same time is that you (or the contractor) have already done the setup, and one more coat is not a huge investment, yet it will give longer life to the coating, lengthening the time before you need to repaint again.
Brennan's Custom Painting, based in Pitman, NJ, provides exterior painting services in New Jersey, northern Deleware and the Philadelphia area. We insist on quality work on all our projects, and we have a remarkable warranty to show you that we stand behind our work. Call us or use our online scheduler to request a free estimate.
https://www.brennancontractor.com/wp-content/uploads/2017/08/brennan-enfold.png
0
0
J2@dm1n
https://www.brennancontractor.com/wp-content/uploads/2017/08/brennan-enfold.png
J2@dm1n
2012-06-21 21:41:31
2012-06-21 21:41:31
How Often Should I Repaint My Home Exterior?