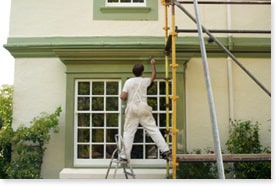 Choosing a quality professional painting service does not need to be difficult! Of course, you'll need to check whether the painters are personable, have licenses, and if they employ professional safety standards. But this can all be discovered with a simple discussion.
After you've checked their references, verified their credentials, and deemed them an appropriate candidate for the job, you'll need to discuss your project. This initial consultation is crucial because it sets the terms of the painting contract. A professional service will only begin a job after signing a contract.
The inspection
The contractor will request an initial appointment to inspect the unique requirements of your project. During the meeting, you will have the best opportunity to talk about the color and type of paint. This will depend on your preferences. You may have to decide between traditional oil-based paints and the modern polymer based paints. The professionals will be able to explain the pros and cons of both. The contractor will also have a few questions:
Do you have lead-based paint on your house now?
What are the painting areas? These include the internal walls, the exterior, wooden planks, the metallic fixtures on the wall, and the shingles.
What is the total area requiring work?
What is the condition of the walls? (Essentially, they check how smooth your wall is.)
Do you have to repair the walls before painting?
Discussing the budget
After evaluating your project, the painter will provide you with an estimate. Any professional can tell you a tentative estimate on the amount of paint you will need. You will also have to pay for the sanding and applying the primer. When you decide the color and type of paint, the expert will assess the amount you need to cover the walls completely. Then, he will add the labor charges and provide the best quote. While creating the agreement, make sure everything you've discussed receives accurate mention in the contract itself.
Assessing personal credibility
While you show the painter around your house, take the opportunity for a personal evaluation. Do remember that the painting job will affect your privacy very much. You will have strangers working in and out the house. You need to be sure of hiring a company with trustworthy employees.
Consent to the initial home inspection only when you feel comfortable with the contractor. While you discuss the project, take note of the attitude and body language of the service estimator. See if you can talk directly to the people who will be assigned to your project.
https://www.brennancontractor.com/wp-content/uploads/2013/03/best-exterior-painting.jpg
186
279
J2@dm1n
https://www.brennancontractor.com/wp-content/uploads/2017/08/brennan-enfold.png
J2@dm1n
2014-12-09 08:00:59
2014-12-09 08:00:59
Getting the Most from Your Painting Contract