Springtime is exterior maintenance time! And after a long winter, it's important to make sure your surfaces weathered the colder seasons without sustaining any damage. Not only will it keep your curb appeal on point, but routine inspections and care also help you to catch any rot, decay, or damage early on. It really does pay to be proactive!
Not sure where to start? That's okay! We've got you covered.
Inspect Your Siding
The first step in ensuring your home's siding is in good condition is to inspect it for any signs of damage. Simple enough, right? Look for cracks, warping, peeling paint, and fading. If you notice problems, address them right away.
Check Your Trim
While you're looking at your siding, check your trim for cracks or warping too, and make sure it's properly sealed. You'll also want to make sure the paint or stain on your trim is in good condition since it can impact the appearance and protection of your home. Also keep in mind that trim is particularly susceptible to wood rot, so watch out for soft spots. Catching rot early is key.
Inspect Your Deck
Your deck is another important exterior surface to inspect and maintain this spring. Look for any signs of damage or rot, especially in the sections that don't get quite as much sunlight. You'll also want to make sure the finish on your deck is in good condition. Whether you prefer transparent stain, solid stain, or paint, the priority is to make sure your deck is protected from the elements (rain or shine).
Check Your Windows and Doors
Your windows and doors are another area to closely inspect. Check for cracks, leaks, or rot, and make sure they're sealed properly. This is a good opportunity to check window screens for any tears or holes, too. You'll be glad you did when mosquito season starts!
Power Washing
Routine power washing is an unsung hero of exterior home maintenance in New Jersey. A deep clean not only keeps your surfaces fresh, but also helps your paint and stain to last longer by removing contaminants like dirt, mold, mildew, and more. It's a win from every angle.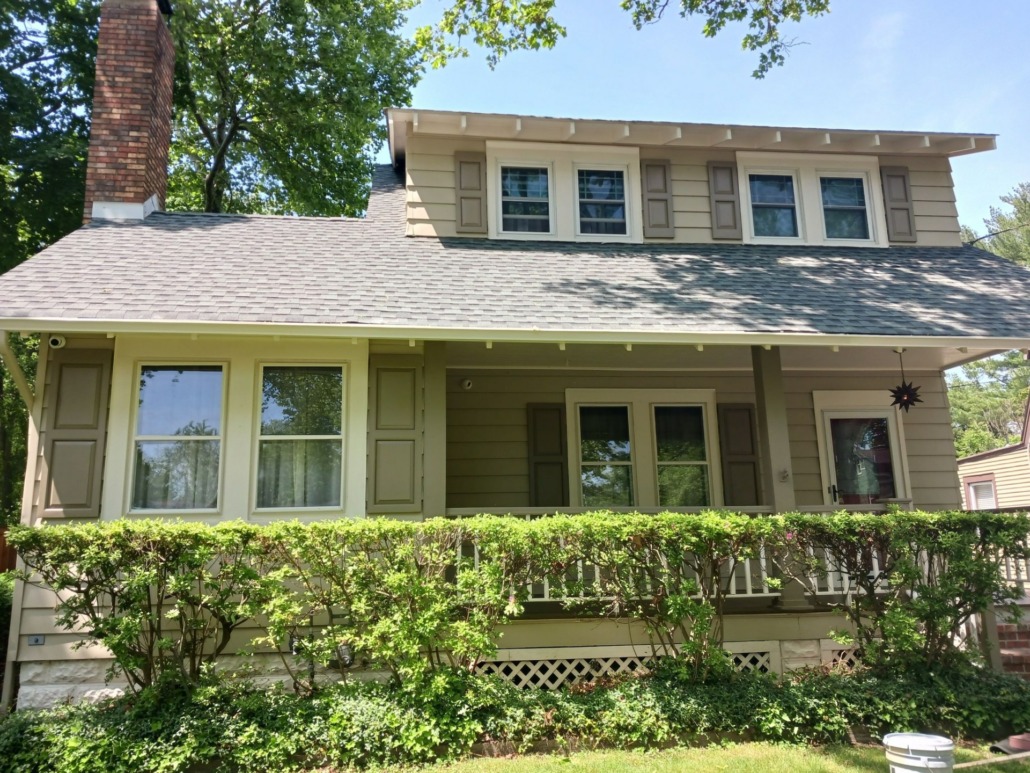 Pro Tip!
It can be easy to put off exterior painting, even if your paint is getting a little tired. Our best advice? Don't wait until total paint failure before addressing any weak spots. Maintenance is a lot more cost-effective than a full repaint, and can actually help your existing paint job to last longer (and look better). 
FAQs
Q: How often should I clean my gutters?
A: It's a good idea to clean your gutters at least twice a year (fall and spring), or more often if you live in an area with a lot of trees.
Q: How often should I seal my deck?
A: The frequency of sealing your deck or trim will depend on a variety of factors, such as the quality of the sealant and the climate. On average, you can expect to stain/seal your deck every 3-5 years.
Q: Can I inspect my home's exterior myself, or do I need a professional?
A: While you can inspect your home's exterior yourself, it's always a good idea to have a professional inspection done at least once a year to catch any issues you may have missed.
Have more questions about painting and maintaining your Southern New Jersey home? Contact us at Brennan Contracting! We'd love to help however we can
https://www.brennancontractor.com/wp-content/uploads/2023/05/exterior_maintenance_tips_for_Southern_NJ.jpeg
1440
1920
J2@dm1n
https://www.brennancontractor.com/wp-content/uploads/2017/08/brennan-enfold.png
J2@dm1n
2023-05-01 13:54:08
2023-05-01 13:54:08
Exterior Home Maintenance Checklist for Southern New Jersey: Inspecting Your Siding, Trim, Deck, and More