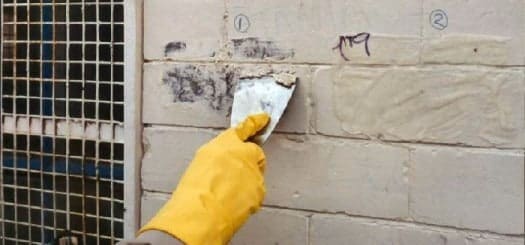 Surprisingly, some homeowners still tend to think that paint stripping is unnecessary. However, applying a fresh coat over an existing old painted surface is actually costlier than investing in prep. The underlying paint affects the top coat, even through the layer of primer.
Just sandpaper brushing would not work either, especially if the surface is not brick. Professionals use special chemicals and heat treatments besides manual sanding. Special techniques are applied for removing paint from wood and metal surfaces.
Scraping a conventional brick wall
Brick walls are the most common type of surfaces found in residential painting work. Sanding is the usual method applied. Obviously, the chemical and heat gun methods are also used whenever necessary. One must remember that paint stripping is one of the most hazardous aspects of the work because of the dust fumes from the old paint. Professionals always wear masks and goggles for this special work.
If the house has last been painted prior to 1978, the existing paint can be lead-based. This type of paint is no longer used because of serious environmental and safety concerns. Even peeling it off requires particular attention to removal and disposal. The secret of good sanding is to keep working unless the tedious job is perfectly over. Any negligence now can show up later as an issue over the new top coat.
Stripping other surfaces
Wooden walls also require paint stripping. For wood, the chemical strippers are most appropriate. Sanding it can damage the grains of the wood. Neither wire wool nor sandpaper is ideal for the longevity of the wood, and heat strippers can scorch the wood. Chemical products, on the other hand, act only on the paint film.
The chemistry of the stripper and the old paint causes the latter to swell and lose cohesion with the underlying surface. Then, the professional gently removes the chemical residue from wood surface using a plastic scrapper. You can also use two coats of stripper if required. Finally, a pad of coarse wool is used to gently scrape off the tidbits of remaining paint.
Taking paint off a metallic surface also requires the use of chemical products. The product is chosen by professionals to be appropriate for the metal surface in question and the type of paint currently on it.
Some professional services also use heat guns. They are best for concrete or brick as they will not catch fire. Nevertheless, when stripping entails taking out an old coat of lead-based paint, it is best to use low temperature heat guns. The high temperature ones emit highly toxic lead fumes.
https://www.brennancontractor.com/wp-content/uploads/2015/01/paint-striping-525x245.jpg
245
525
J2@dm1n
https://www.brennancontractor.com/wp-content/uploads/2017/08/brennan-enfold.png
J2@dm1n
2015-01-19 08:00:43
2017-03-24 18:17:03
Different Aspects of Paint Stripping