Not ready for a kitchen remodel with all the stress, time, and money that goes along with having your entire kitchen torn out and put back together again? Luckily, a remodel is not your only choice if you are noticing that your kitchen is a little outdated. 
On one hand, you could paint your cabinets. Freshly painted cabinets are nice (check out our Facebook page and you'll see countless beautiful examples). But what if you need more than paint? 
It might be time to check out cabinet refacing.
What is cabinet refacing?
Have you been looking at pictures of some of the newest kitchens? If so you may have noticed that you can replace dated dark or yellow wood with soft grays and whites. The newest trend is moody cabinets in dark greens and blues. The golden oak finishes of the 1990s are being replaced by crisp colors framed by Shaker-style doors and drawers.
One of the best ways to achieve the kind of improvements your cabinets need is cabinet refacing. We replace your existing doors and drawer fronts with new, updated styles, then paint the frames and boxes to match. Adding some new hardware to this project makes your kitchen look brand new!
How do you know if it's time to reface your cabinets?
The easiest way is to ask yourself if paint is really all you need to be thrilled with your kitchen. And, are your cabinets worth that investment? 
Cabinet refacing is a better option if:
Your cabinet doors are old

Your cabinets are made with lower-grade materials that aren't worth the time and attention involved in repainting them

Your cabinets have dated structural elements, like curved grooves that haven't been a thing since Reagan was in office

Your doors are damaged or unsound 

You have exposed hinges and really want more modern features, like soft-close doors and drawers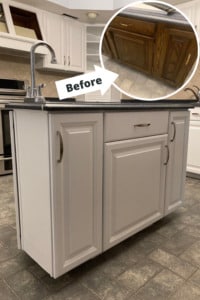 We recently were asked to provide an estimate for painting a local kitchen. The overall layout and structure met our client's needs, but the cabinet doors were 38 years old with exposed hinges. Cabinet refacing was quickly deemed the much better option!
Have more questions about cabinet refacing in New Jersey? 
Contact us at Brennan Contracting! We'd love to help you navigate your options and opportunities, picking just the right course for your kitchen.
https://www.brennancontractor.com/wp-content/uploads/2017/08/brennan-enfold.png
0
0
david
https://www.brennancontractor.com/wp-content/uploads/2017/08/brennan-enfold.png
david
2022-09-30 16:19:46
2022-09-30 16:19:46
Cabinet Refacing in Southern NJ: Skip the Remodel!