You might be wondering if painting your kitchen cabinets is for you. Well, if you have high-quality wood cabinets that just need a refresh, not a full remodel, painting might be the perfect option.   Here are a few of the key benefits:
Modernize your kitchen within a week or so (better than several months of construction!)

Personalize your space with the color of your choice

Increase the value of your home
All that sounds great, right? But how long do painted cabinets last? The answer is that it all depends! Beautiful, long lasting painted cabinets are possible, but it helps to make the best choices right from the beginning.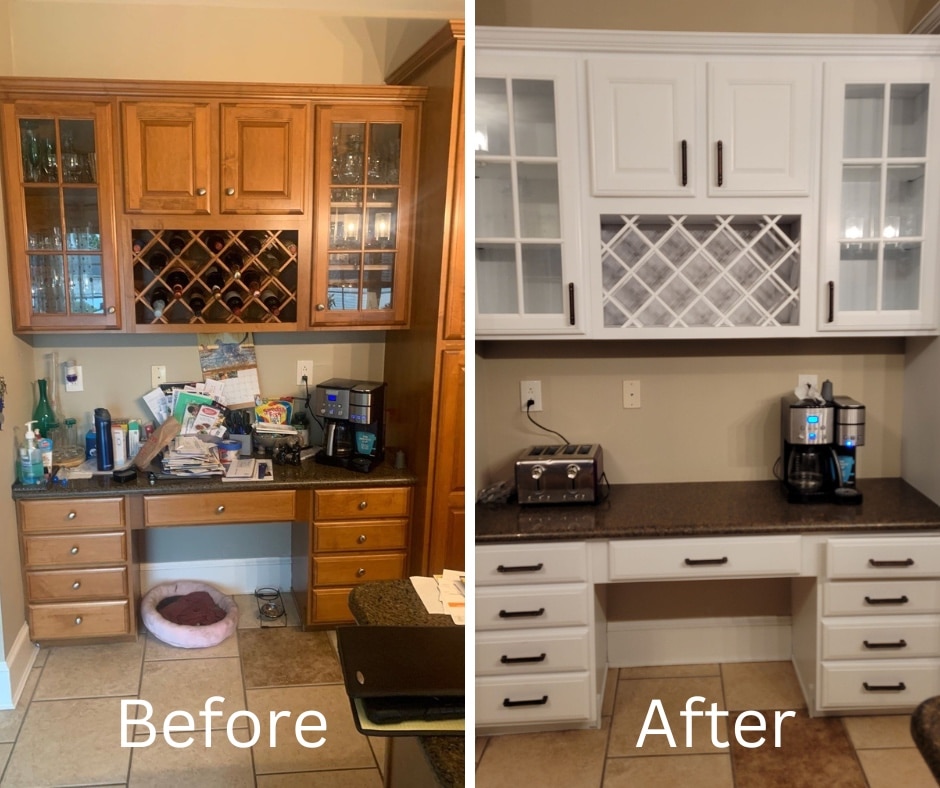 Why do DIY painted cabinets fail?
You want your cabinets painted, and how hard can it really be? You may be thinking that you will just run down to the hardware store, pick out some paint and you're good to go. Right?
Well…it's really not that simple. Like most home projects, this one seems easy until you get going. Cabinet painting is a specialized process, and even if you buy really good paint and follow every step meticulously, you still don't have the benefit of expertise, a cabinet spray shop, high-end spray equipment, and a completely contained workspace with ideal conditions. And because of that, your paint job won't be as durable, won't look factory-grade, and won't last.
In our case, you actually can't even buy the products we use from paint retailers. It's a water-based, catalyzed industrial wood coating not sold to the general public.
Why do some professional cabinet paint jobs fail?
Just like do-it-yourself cabinet painting projects, low-grade "professional" paint jobs aren't set up to last. The wrong products are used, the wrong application techniques, and the wrong prep. In fact, much of a successful cabinet paint job is found in expert surface preparation, and that's not something that a lot of painters realize or commit to. 
You may know by now that spraying is the best way to get a smooth factory finish, but the best paint job begins way before that when professional painters: 
Remove doors, drawers, and hinges for a thorough finish.

Clean and remove years of cooking-related grime from cabinet surfaces.

Fill holes and repair damages caused by wear and tear.

Sand, vacuum, and tack surfaces to ensure excellent paint adhesion.

Apply a durable, high-quality primer.

Carefully apply paint to cabinet boxes, doors, and drawers, using premium products that cure with a very hard, durable finish. 

Allow sufficient drying time for durability.
Then the rest is up to you.  Just follow these suggestions to keep your painted cabinets looking fabulous.
Clean as you go while cooking.

Don't let spills sit on the finish.

Don't hang damp towels over cabinet doors or drawers.

Deep clean the exterior and interior every three to six months.
We would love to help you have the kitchen of your dreams. Contact us, and we'll answer all of your questions when we stop by for an estimate.
https://www.brennancontractor.com/wp-content/uploads/2023/01/Cabinet_painting_durability.jpeg
1440
1920
J2@dm1n
https://www.brennancontractor.com/wp-content/uploads/2017/08/brennan-enfold.png
J2@dm1n
2023-01-10 17:32:31
2023-01-10 17:32:31
Are painted kitchen cabinets durable?